You have to take time to make time. This is the mantra Oxford resident Sue Martovich has encompassed with her new business Salt of the Earth Spa in the newly developed Woodbury Green South in Woodbury, which opened in late 2014.
"It's really about finding that time to have some Zen time, support your immune system [and] detox," said Martovich.
Salt of the Earth offers a variety of services including dry salt therapy, yoga, massage therapy, energy healing and Natural Allergy Elimination Technique – a natural pain-free elimination technique which combines acupressure nutrition and kinesiology to detect and desensitize allergies of all kinds.
"[NAET] works with meridians in your body," said Martovich. "I have people coming in here that have specific conditions."
Martovich said beginning this venture had to do with what she had experienced in her lifetime, everything from climbing the corporate ladder, financial stress and the toll all of it took on her and her husband's health. What people are missing today, Martovich realized, was downtime.
"My husband had psoriasis and I had eczema, and after numerous times of getting treated through the traditional methods, that's when we decided to make a shift," she said. "We changed our lifestyle to encompass more organic products."
Martovich said people are in so much of a rush today with deadlines to meet that the minute they step out in the morning, they are encompassing stress.
"We are depleting our bodies, we're not giving ourselves time to recharge, and this is that space that gives you that time," said Martovich of her spa.
Martovich said every time you take a drug and stay on it, one or two things might happen. You're going to get a side effect, so either you're going to tolerate that side effect or you're going to take another drug to deal with that side effect.
"Nine times out of 10, you're going to have your good bacteria affected; nine times out of 10 when you suppress your symptoms, your immune system is going to be affected," said Martovich. "I have people coming in here that have serious illnesses… they're physically and mentally depleted because of all the medications they're taking. They don't know what to do with themselves anymore."
Salt of the Earth Spa makes it very clear, however, that it works well as a complimentary treatment in conjunction with traditional medicine or as an alternative treatment under the guidance of a physician. They recommend that people coming to the spa consult their doctors before deciding to discontinue any medications or prescribed treatments.
The salt cave therapy offers an opportunity to not only relax, but a chance to get to the core of natural body recovery. It helps aid allergies, arthritis, asthma, bronchitis, Cystic Fibrosis, ear infections, eczema, migraines, hay fever, skin allergies, sleep disorders and more, Martovich said.
Salt therapy, also known as halo therapy, is the use of an air-controlled environment creating a natural salt cave microclimate. The salt is distributed through a salt generator, creating a negative ion environment to promote balance within the body and reduce stress.
"I heard about salt therapy and I was so excited it came to town," said Jamie McKee, of Southbury, who brings her daughter, Eliza to the spa. "She was diagnosed with asthma, and it really helps to loosen up the lungs. I really noticed a difference in her"
McKee said she comes to Salt of the Earth Spa when Eliza develops a cold and it starts to go into her lungs.
This form of therapy dates back to ancient Greece, but was rediscovered in the mid-19th century in Europe, according to a pamphlet provided by Salt of the Earth Spa.
Halo therapy made its resurgence when a Polish health official, Dr. Felix Boczkowski, noticed the difference in the immune systems and health of salt miners compared to other miners. His research was instrumental in the creation of salt sanatoriums, hundreds of feet below the surface of the earth.
Martovich said approximately 10 tons of the salt incorporated into their treatment rooms comes from the oldest, smallest and most mineral rich mine in the world, located at the Khewra Mine in Pakistan.
"Salt of the Earth Spa works with a well established USA importer of Himalayan Salt to ensure the salt's authenticity and superiority," she said. "Their supplier has held mining rights in Khewra for generations."
According to Martovich, only about 25 percent of the output meets their exacting standards. Miners are careful in their selection process to ensure the retention of the salt's rich therapeutic properties.
Martovich and her husband also own a manufacturing company focusing on aerospace products and high-end architectural hardware. Prior to opening Salt of the Earth Spa in Woodbury, she and her husband had gone through several different business interests of either expanding the company they had or buying someone else out and adding their production and product to their company.
When a friend of hers told her they were purchasing the new Woodbury Green South space along with other partners, Martovich immediately knew she wanted a space.
"My husband and I had gone to the salt cave in Ridgefield and we were so blown by the treatment not only for skin problems, but how we felt coming out of there," said Martovich. "After we left that salt cave, I just started doing research."
Martovich said she started learning what the salt could do by finding out how it could help her husband's skin and looking at various options.
"We knew when he went down to the ocean, he was good for a few days. The salt water was so beneficial," said Martovich. "Having this kind of place for both of us gives us a break, gives us a place to wind down, and we both needed that."
Research started with the skin and Martovich then began learning further about the benefits of salt therapy and realized respiratory issues could also be helped.
"Then I started looking at the demographics and how many doctors were dealing with respiratory issues and I took inventory of the area of Roxbury, Litchfield, Woodbury, Southbury, Middlebury, Oxford," said Martovich. "There is a lot of doctors out there, and I said, 'There's a need for this.'"
Martovich said people want something else, they want a choice, they want to be able to have an alternative to taking medicine all the time and gain an opportunity to try something natural and effective.
"It is something that has been used thousands of years to heal and it's very popular in Europe," said Martovich. "It started growing to use for skin and respiratory and skin disorders."
Salt of the Earth Spa is located at 787 Main St. South in Woodbury. For more information, call 203-586-1172 or visit www.naturalsalthealing.com. You may also like the Salt of the Earth on Facebook at https://www.facebook.com/pages/Salt-of-the-Earth-Sanctuary/461868863950901.
WOODBURY, Conn. (WTNH) — Welcome to salt cave yoga – yoga moves in a salty setting.
"In a salt cave, it's very much like you're at the beach. You have the air like you're at the beach- the salty air," says fitness guru Ellen Barrett.
She's guiding the class, "inhale-stretch the arms up," she says, at the Salt of the Earth Therapeutic Spa in Woodbury.
Barrett explains, "It's a yoga class that's heightened with this wellness energy. It's not just about being fit, it's about really being well."
The chamber is packed with Himalayan Salt, known for it's holistic healing powers.
"Salt therapy," Barrett says, "is so valuable for the skin, so valuable for your lungs, it's great for stress."
Co-owner Sue Martovich created a climate controlled environment.
"The generator," says Martovich, "has pharmaceutical grade salt in it. It gets milled. It's a very, very fine particle and it can go into the upper and lower part of your lungs."
Yogis are surrounded with salt bricks, salt tiles, and standing on seven to eight inches of salt.
And every breath they claim has benefits.
Barrett says, "It's this awesome clean unpolluted air. That high mineral content. It also has high negative ion content which is a good thing so the higher negative ions, the more euphoric you feel."
And there's a potential plus on overall wellness.
"It goes in," says Martovich, "and clears up the mucous and congestion. It opens up the airways. It's 100% soluble- doesn't stain the lungs. It's actually the same substance that's used in saline solutions used in hospitals."
Fluid moves to focus inward, "Breathing in that awesome salt air into the lower back," instructs Barrett, now more of a detoxifying experience.
The salt cave yoga classes are offered on Saturdays.
For more information – log onto www.naturalsalthealing.com or call 203-586-1172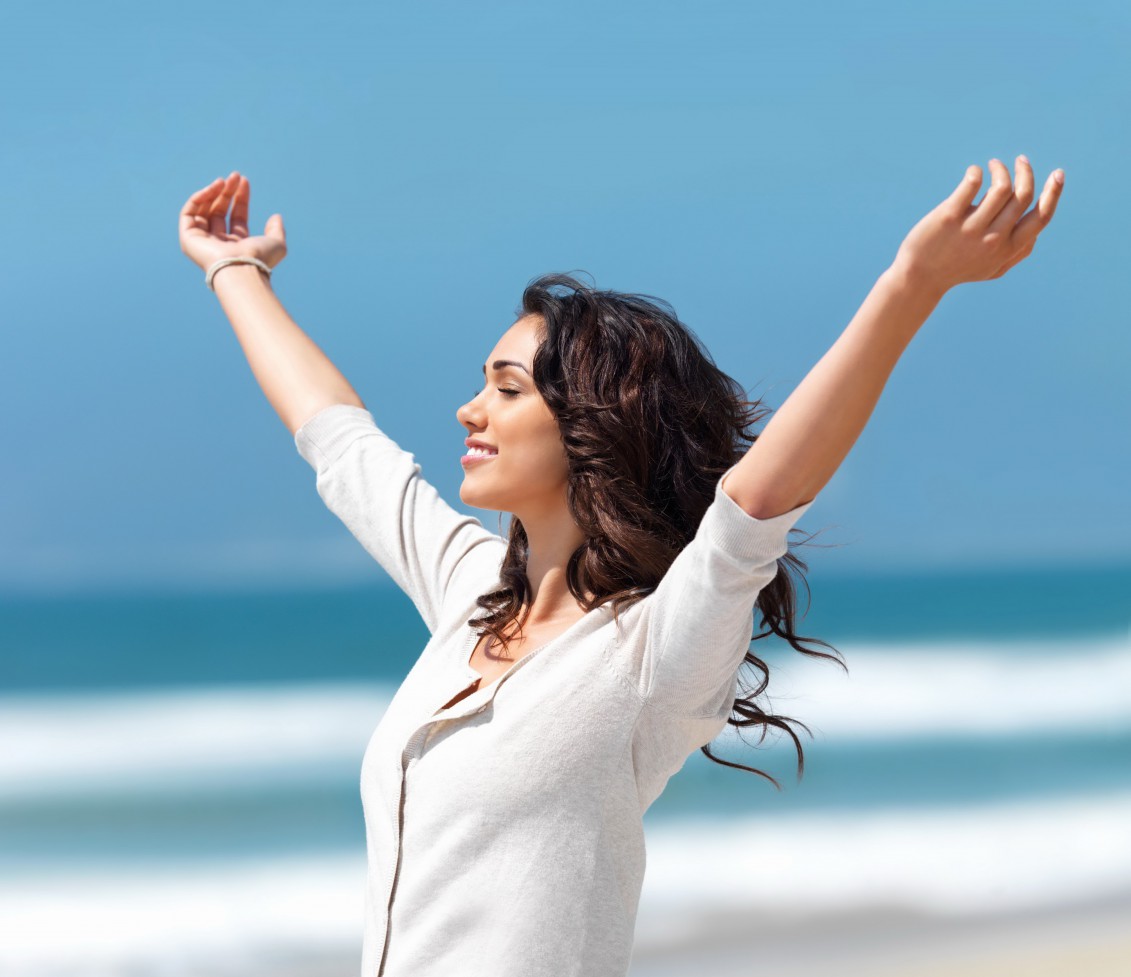 GREENWICH – Woodbury business owner Sue Martovich, President of MS Design CT, Inc. and Managing Member of Salt of the Earth Sanctuary, LLC, was recently recognized by the Women's Business Development Council at its 20th Anniversary Luncheon Gala held at the Greenwich Hyatt Regency.
The Women's Business Development Council was founded in 1997 to provide the training, education and borrowing power necessary to empower women to successfully launch and grow their own businesses. In honor of their 20th anniversary, the Council presented their "20 for 20 Award" to 20 successful women entrepreneurs and women business owners, including Martovich, who have prospered from the not-for-profit's services.
Martovich is a Managing Member of Salt of the Earth Sanctuary, LLC in Woodbury which provides therapies and treatments focused on natural body recovery, including yoga and meditation classes, holistic healing sessions, and Himalayan salt therapy chambers. She is additionally the President of MS Design CT, Inc. which designs and produces high-end architectural door and drawer hardware for clients who seek artistically-inspired craftsmanship as well as structural components for the Aerospace Industry.
Long-recognized as the signature annual women's business gathering in Connecticut, the gala brought together nearly 700 supporters of women-owned businesses including Small Business Administration Chief Linda McMahon, U.S. Senator Richard Blumenthal, and Congressman Jim Himes.
McMahon remarked that the women-owned businesses served by The Women's Business Development Council are "not only serving our communities with products and services, they are providing paychecks to families and making our cities and towns vibrant places to live."
She explained that small businesses create two out of every three net new jobs in the private sector with more than half of the U.S. workforce either employed by a small business or owning a small business. "Women in particular are driving a lot of that growth," she said. "Research shows that women-owned small businesses are the fastest growing sector of our economy."
Women's Business Development Council CEO Fran Pastore addressed the crowd, "The Women's Business Development Council's work on behalf of women entrepreneurs has never been more relevant than it is today. Make no mistake about it; this is not a female issue. This is a socioeconomic imperative. When a woman can borrow money for income-generating activities like starting their own business or growing their own business, it has a ripple effect around our communities."